Production Scheduling Software
Jobdispo Graphical Scheduler provides REAL DELIVERY DATES, instantly and in realtime. At a glance late jobs are known, bottlenecks identified, stoppages are recognized, and any missing manufacturing data can be identified immediately! Because Jobdispo operates in real time, actions taken by manufacturing staff, dictated by real world events, are reflected in the system and show up graphically as they occur. Jobdispo is a finite production scheduler that takes actual capacities into account. It can be used in combination with ERP/MRP systems or standalone.
Jobdispo uses advanced scheduling algorithms in order to optimise throughput times and adhere to delivery dates and capacity utilisation. Jobdispo is suitable for make-to-order and/or make-to-stock manufacturers. It can handle a growing bill of materials, and offers a top-down planning approach with an increasing level of detail. With one-screen-technology, all relevant information for a project with it's sub-assemblies, or a single part with operations can be seen at a glance. Once a work order has been planned and released for manufacturing, the order progress can easily be monitored and controlled.
Imagine how much more efficient your organization would be if you could see at a glance all open work orders and the effect they have on your capacity to produce by work center, by department, by team, even down to the machine level. There would be no more guess work on when a job can start or when you can tell your customers their order will ship.
Jobdispo Production Scheduling gives you the tools to maximize efficiency while reducing costs. You can view at a glance which resources are being under or over utilized and can adjust your production accordingly to balance the load. As new orders are placed or existing order due dates change, you can see real time the effect on your production capacity. The application also provides recommendations to changes in order due dates based on the work remaining to be done.
Real time access to job/machine status
Real time access to inventory status
Real time access to scrap rate
Real time access to production data
Automatically generate production work orders and travellers
Identify and graphically show bottlenecks & idle resources
Determine completion dates & optimize resources for minimum lead time
Strategize what-if scenarios; decide what new business you can support
Built-in work flow processes
Stand-alone or integrated with the existing manufacturing and ERP environment
For graphical visualisation of all orders and operations, the Job graphical planning board provides information for each work center with operations loaded, distinguished by different colors. All resources such as machines or worker centers, (resources) are displayed vertically. Time is displayed horizontally. Operations are assigned to their resources and show different colours so are easily identified.
When Jobs or operations are started, the length of the colored bar will diminish in real time throughout the operation until paused or finished.
By simple drag & drop of an operation, either between resources,or moved within a current resource, the job or operation can be rescheduled. All work affected by the change is rescheduled instantly and the effect on other jobs of rescheduling is displayed.No changes take effect until saved, thus allowing for you to try "what if " scenarios.
Job list displays all active jobs on one screen by work order number, part number, quantity, due date, and Actual calculated end date, with the deviation from the due date. At a glance late deliveries are identified and rescheduling action can be taken.
The major advantages of JobList for the production scheduling is that the impact of any changes on all current orders in production are displayed, and shown by arrows representing deviations in days within the components list. This is further enhanced with a real time explorer type traffic light system showing operations complete, in-process, and real time versus estimated time.
JobList is a finite capacity system so always plans into the future and notifies of deviations from customer delivery dates and planned end dates throughout the entire workload. JobList provides Graphical Intelligence notifying you on the effects on all jobs, if you reschedule one!
Review Time View. This feature allows for the classical Gantt chart perspective. Here, operations are presented as bars according to the time frame on an assigned machine. When Jobs are started the length of the bar will decrease as time is used, in real time throughout the operation until paused or finished. Furthermore, Guava-JobPack offers automatic functions for optimising plans according to predefined scheduling rules.
When will this job finish?When a customer calls or management needs to know when a job will ship –simply click on the last operation of the job and see the scheduled end date. It's that easy! Where is it? Want to know where a job is? Click on the operation marked "in progress". The system will show the current machine the job is on, the quantity made so far, and a scheduled end date.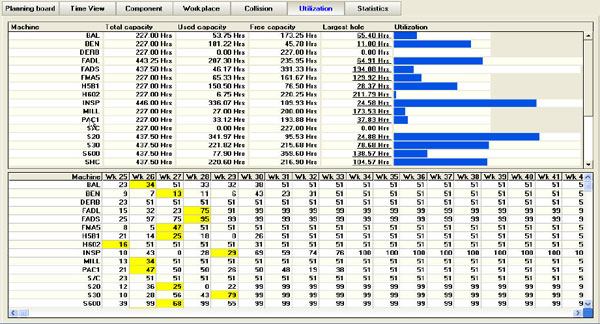 Review Utilization JobPack offers a real timeview on your currently available capacities at a glance. Within either a preset or customised timescale, the planned and available capacity utilization is shown for every resource or resource group, both graphically and numerically. Also, the biggest gap is shown by a yellow mark.
With one click on the biggest gap, you jump automatically to the planning board. This is a very easy way to answer the question -"Do we have free milling capacity next week?" "Can we squeeze in this rush job?"
PRODUCTION ORDER PROGRESS
Review Machine Loading : JobPack provides a view of machine loading with jobs queued at each machine and total active work loaded on the shop floor. Do you know how many hours work you have on your shop floor? It's not easy to answer.
As soon as you have calculated the hours it's out of date, and inaccurate as operations and jobs have been completed and new work released to the shop. Now you can see what machines are overloaded versus what machines are under utilized.
You can organize "overtime" working where needed to remove the load, or re-schedule work to other less loaded machines in order to optimise through put and balance machine loading.As well as displaying the total work load of the entire shop floor, JobPack can show this loading data for groups or individual cells of machines, and make suggestions to utilize alternate machines.
Travelers JobPack provides Instant –Automatic shop floor travelers, with or without bar codes.
As soon as a work order, or job is entered into the system a traveler is produced to accompany the material and provide operational work instructions for machine operators and to allow shop floor personal to START and FINISH work operations with a single bar code read.
As soon as a bar code is read JobPack knows the operator, the machine, the job, the operation, and can collect data on any or all of these to provide real time job data and the work moves across the shop and to provide reports when the job is complete.
Touch Screen monitors and tablets can be used to view and enter feedback from the factory floor.
Graphical representation of scheduling simplifies planning and co-ordination.
Users can drill down to the machine and operators performing the Works Order with start and stop times.