Barcode stocktaking system can be used independently or integraterd with our existing inventory system.
This not only enhances the inventory accuracy but also prevents the loss of stock. It can certainly help you finish the stocktaking process more efficiently.
Rent Barcode Scanners to Complete Year-End Inventory Counts
Renting scanners will speed up your year-end inventory count. Simply upload your inventory barcode list and use the mobile scanners to scan and count all inventory stock.
The in-application calculator allows users to input calculations when counting individual items in bins and boxes all without leaving the inventory count application on the scanner assuring for accurate counts with no mental-math errors.
Reports provided in .csn or .xls allow you to easily manipulate and evaluate the data from the inventory count.
Using our inventory count system is as easy as the 1-2-3 steps below!
To start this easy process, simply fill out our no-obligations Equipment Rental Form!
Equipment Rental Form
Not quite ready yet? Chat with us for more information on renting scanners to count inventory.
We have the following set of equipment that you can use immediately for your stocking taking purposes:
1) Codesoft Mobile Scanner MC5390 C/W Inventory Software
2) POSTEK Barcode Printer
3) Desktop Inventory Software and Report
Extra cost will be charged to provide custom programming services
Sample Screens Configuration
Stock take Software Process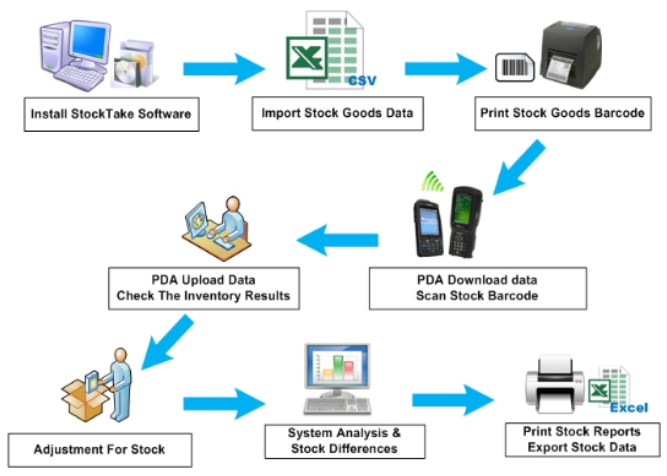 Pricing
Rental prices range from $200 per week.Accessories such as batteries, battery chargers, communication cables and docks are provided as needed.
On-time Deliveries
Don't waste time! We get your barcode equipment to you on time and without hassle. Just tell us when you need the equipment, and we'll be sure it arrives on time.
Programming Services
If you need a standard inventory reader program or attendance tracking, we have it. If you need something a little more custom or special then we can program it quickly. We've written literally thousands of barcode reader programs, so we know what most people are looking for.
Complete Setups
All rentals come with Inventory Software, batteries, download cables, docks, chargers and complete instructions on how to use the barcode equipment. Handheld and communications software is also available if needed..
More Questions?
If you have further questions about our rental services, check out Frequently Asked Questions, or call us at 603 2770 2563